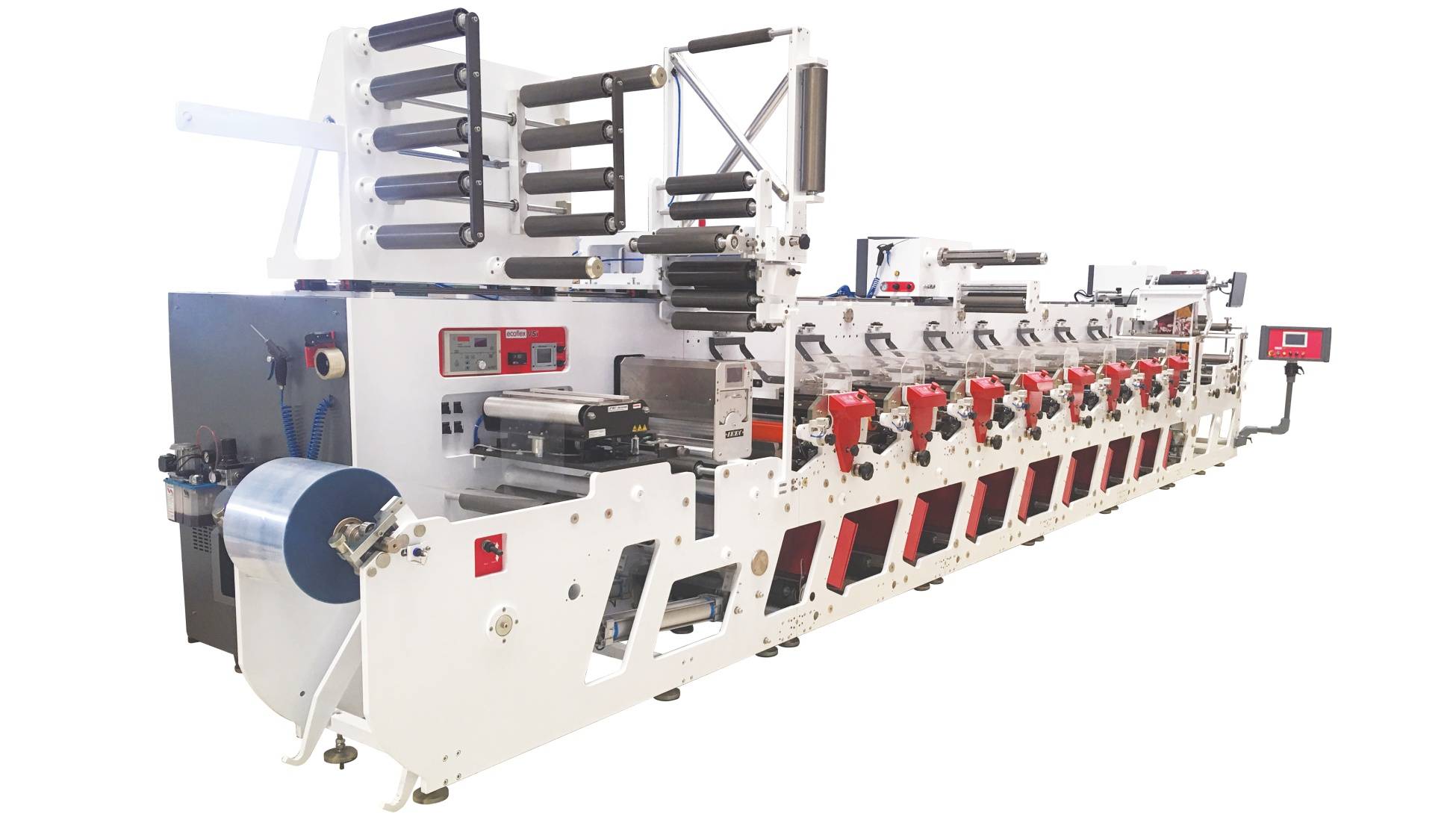 SX
SX is an advanced narrow web flexo press for printing flexible packaging and self-adhesive labels.
With servo infeed, open access, quick-change print cylinders, large diameter chilled impression rolls and short web path UV configuration, you are assured of the best print quality with the least wastage. No settings are required to be changed when changing jobs and print repeats unless the material caliper changes. With the unique plate cylinder locking system, job changes are now super easy. The converting section has a heavy-duty construction for die cutting & the Zero-break™ matrix stripping system ensures high speed waste stripping of complicated shapes
Servo infeed
For excellent register throughout the speed range and material thickness range.

Laser based pre-registration
A laser guide on every print station ensures quick and easy pre-register before any material is passed through the machine .

360 degree circumferential registration
360 degrees circumferential register control at individual stations for fast and limitless circumferential register.

Open access
Clean and clear view of the print unit for quick and fast job change.

Quick-change print cylinder
"No rods" print cylinder change within seconds.

No pressure settings
No need to set pressure for every job. One setting does it all.
Chilled drums
Large diameter chilled impression rolls to accommodate the most difficult substrates. Gives the operator a clean and quick view of the print.

Short web path
The shortest web path in the industry – just 1.1m between print units. Less web – less wastage – quick setup.

Rail system for mounting accessories
Rail system to mount cold foil, turnbar, rotary screen and other accessories movable throughout the press length.

24″ print and die repeat
Print cylinders from 7.5″-24″ can be accommodated. Large 24″ die repeats also possible.

Modular construction
Assembled to your specifications to meet your needs. Additional modules can be added as your business and market opportunities grow and change.

Energy efficient UV systems
Energy saving UV curing systems are mounted on the chill drums.
Specifications
| | |
| --- | --- |
| Substrate Range | 12 microns – 370 GSM |
| Max Speed | 150m/min |
| Web Width | 370mm/450mm |
| Control System | Infeed servo and main servo controlling the line shaft connected to precision gearboxes |
| Max Roll Capacity | Unwind: 1250mm Rewind:800mm Waste:700mm |
| Print repeat | 7.5" – 24" (9"-24" for 450mm) in steps of 1/8" |
| Web Path Distance | Between Prints UV: 1.1m |
| Pre-Registration | Standard (by Laser) |
| Remote Diagnostics | Standard |
| Job Storage | Standard |